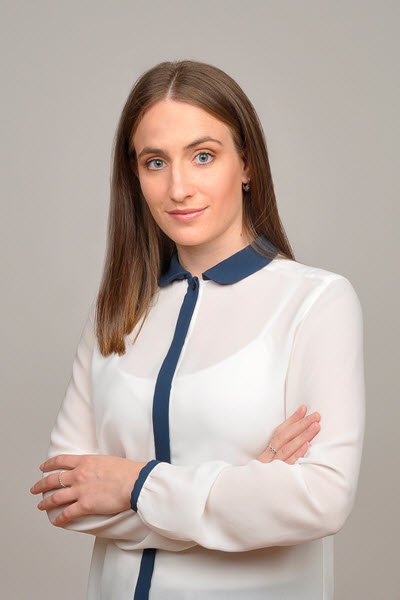 ---

---
Alja Romšak is a Slovenian and French-trained arbitration lawyer who holds the Slovenian Bar.
Alja previously worked as a junior associate with Rojs, Peljhan, Prelesnik & Partners, a top-tier arbitration law firm in Slovenia. She mainly served as counsel in investment arbitrations but also international commercial arbitrations. Prior to this position, Alja worked at the International Chamber of Commerce (ICC) as project coordinator for Top-Level Domain Names Dispute Resolution.
Alja's arbitration experience was also obtained at Clifford Chance in Paris, where she was a trainee, and an internship at the ICC International Court of Arbitration. During her time at Clifford Chance, Alja also assisted with International Commercial Arbitration classes at the Paris Institute of Political Studies (Sciences Po).
As a Foreign Affairs scholarship recipient, Alja also performed internships at the diplomatic protocol of the Slovenian Ministry of Foreign Affairs and at the Slovenian Embassy in Berlin. Her pro bono work has included legal assistance at the Administrative Court of the Republic of Slovenia on asylum law cases as a part of pro bono project of the Ljubljana Legal Clinic for Refugees and Foreigners.
Alja graduated from the University of Ljubljana with honours. During her studies, she focused on international dispute resolution, taking courses on alternative dispute resolution at the Humboldt University of Berlin and spent a semester studying international and EU law and antitrust law at the Université Paris Ouest Nanterre La Défense. As a student, Alja was a member of the University of Ljubljana teams for the ICC Commercial Mediation Competition in Paris and the Willem C. Vis International Commercial Arbitration Moot in Hong Kong and Vienna, where she participated as a speaker and her team qualified for the Frédéric Eisemann Award for Prevailing Team at Oral Hearings.
She speaks English and Slovenian fluently and has a working knowledge of French, German and Serbian/Croatian.
PROFESIONAL EXPERIENCE
Aceris Law LLC – Associate (6/2017 – present)
Alja works on various cases under the ICC, LCIA, UNCITRAL and ICSID rules of arbitration, including a dispute regarding the construction of a cement grinding plant in the West Africa. Alja is also contributing to the representation of various parties that are involved into various commercial sectors, such as aviation, consumer goods and technology.
Law firm Rojs, Peljhan, Prelesnik & partners, Ljubljana, Slovenia – Junior Associate (10/ 2013 – 06/ 2014 and 02/ 2015 – 10/ 2016)
Alja's main work focus was on investment arbitration cases, where she helped carry out research and draft memoranda for investors pursuing claims against State entities in the energy sector.
Clifford Chance LLP, Litigation & Dispute Resolution, Paris, France – Intern (07/ 2014 – 12/2014)
Alja worked on international commercial arbitration cases in disputes that ranged from the aviation to the banking sector. She conducted legal research and drafted parts of memoranda. Alja also assisted with the preparation of International Commercial Arbitration classes at Sciences Po.
ICC International Centre for ADR, Paris, France – Project Coordinator (04/2013 – 9/2013)
Alja helped with the administration of ICANN generic Top-Level Domain Name disputes, where she provided information of the process of dispute resolution to relevant stakeholders.
ICC International Court of Arbitration, Documentation Centre, Paris, France – Intern (01/2013 – 3/2013)
 Alja examined the Court's final and partial awards, and extracted and summarised relevant parts for the purposes of an internal database. She attended the ICC Secretariat's and the ICC Court's meetings.
Ministry of Foreign Affairs of the Republic of Slovenia, Ljubljana – Intern (9/2009 and 06/2010 – 9/2010)
 As an intern at Diplomatic Protocol, Alja helped the staff draft diplomatic communications, prepare for relevant State visits and provided support to residing foreign diplomats.
EDUCATION
 University of Ljubljana, LL.B., Graduated with Honours (2013)
International Law, International Commercial Law, Dispute Resolution
Final Thesis: Top Level Domain Name Dispute Resolution under the supervision of Prof. Aleš Galič
 Université Paris Ouest Nanterre La Défense (2012)
Exchange Programme, where Alja studied Antitrust law and EU law
 LANGUAGES
Slovenian (native proficiency)
English (full professional proficiency)
French – (fluent)
German – (basic understanding)
Serbian, Croatian – (basic understanding)
 BAR EXAM
 Alja passed the Slovenian Bar Exam in May 2017.
 OTHER