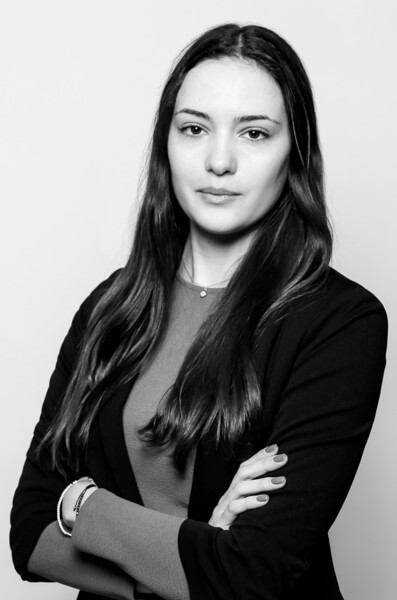 Anastasia Tzevelekou is an arbitration lawyer based in London. She speaks English, French and Greek.
Anastasia holds an LL.M. in International Business Law from the London School of Economics, as well as an LL.M. in International Commercial Arbitration and a Bachelor's Degree in Law, both from Democritus University of Thrace in Greece.
Prior to joining Aceris, Anastasia worked for two years at KPV Legal, a boutique arbitration/litigation firm in Athens, assisting with international arbitration cases.
---
PROFESSIONAL EXPERIENCE
Aceris Law LLC – Associate
Anastasia represents the clients of Aceris Law LLC under the direction and supervision of the founding partner, William Kirtley. She works on various cases under the ICC, SCC, and LCIA rules of arbitration, as well as ad hoc arbitrations, dispute board proceedings in the construction and other sectors, and on investor-State arbitrations.
Aceris Law LLC – Trainee (12/2019 – 05/2020)
As a trainee, Anastasia was involved in an ICC construction arbitration under Saudi law, an ICC arbitration involving the creation of cryptocurrency exchange software under US law, and in dispute board proceedings concerning the construction of an electric transmission line under Georgian law. She has also assisted with drafting settlement agreements and a legal memorandum for the potential acquisition of a large arbitral award against an African State by a Swiss third-party funder, focusing on enforcement issues.
KPV Legal | International Arbitration & Litigation – Trainee (09/2016 – 08/2018)
Anastasia worked in a team representing an airline company in SCC expedited proceedings in a dispute involving leased aircraft. She also assisted in defending a construction company in annulment proceedings concerning a EUR 8.5m arbitration award before Greek courts.
RECENT INTERNATIONAL ARBITRATION LEGAL EXPERIENCE
Assisted in dispute board construction proceedings under Georgian law
Assisted in the acquisition of an arbitral award by a third-party funder
Assisted in an ICC construction arbitration under Saudi Law
BAR ADMISSIONS
EDUCATION
London School of Economics (2018/2019), United Kingdom
LL.M. in International Business Law
International Commercial Arbitration; Investment Treaty Law; International Commercial Litigation; Private International Law; International Business Transactions: Advanced Procedures and Tactics; Competition Law; E-Commerce Law.
Democritus University of Thrace (2017/2018), Greece
LL.M. in International Commercial Arbitration (Rank: 1st)
Arbitration Agreements; Arbitral Procedure; Advanced Issues of Applicable Law; Res Judicata of Arbitral Awards; Recognition and Enforcement of Arbitral Awards.
Democritus University of Thrace (2012/2016), Greece
Bachelor of Laws in Greek, European and International Law (Rank: 5th)
LANGUAGES
OTHER