Our highly-ranked international arbitration lawyers have served as counsel in well over one hundred international commercial, construction and investor-State arbitrations under the ICC, ICSID, UNCITRAL, LCIA, ICDR, SIAC, SCC, DIAC, HKIAC, JAMS, CICA, PCA, OHADA and other arbitration rules. We have provided legal representation for arbitrations under English law, French law, Swiss law, Singapore law, Spanish law, Russian law, Saudi Arabian law, Mexican law, Japanese law, German law, Turkish law, OHADA law, Malaysian law, Hong Kong law, Angolan law, Moldovan law, Albanian law, Romanian law, Georgian law, Uzbek law, public international law, various American laws, various Canadian laws, and the laws of many other common law and civil law jurisdictions. All of our arbitration lawyers speak English and French fluently, while individual lawyers also speak a variety of other languages fluently, including Spanish, Portuguese, Polish, Arabic, Serbo-Croat, Czech, German and Russian. Our goal is to provide the best value for arbitration legal representation, globally, while resolving each dispute in line with our client's interests.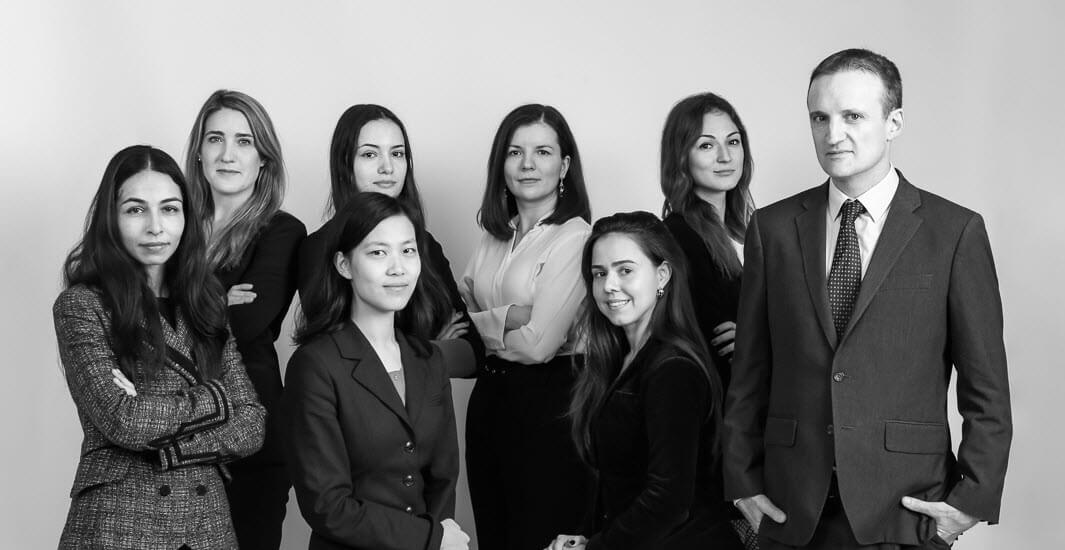 ---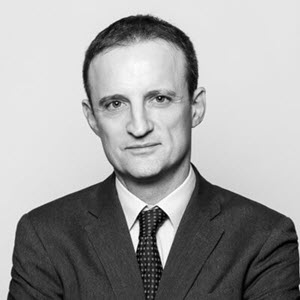 William Kirtley is a Franco-American Harvard-, Columbia- and Sorbonne-trained international arbitration lawyer with nearly two decades of experience specialising in international commercial, investment and construction arbitration at the highest level. He is a member of the New York and Washington Bars and a former French Avocat à la Cour, who was previously a member of the international arbitration practice groups of Shearman & Sterling and Salans (now Dentons).
He has served as lead counsel or arbitrator in disputes on six continents, under the UNCITRAL, ICC, ICSID, SCC, LCIA, ICDR, CICA, CIArb, PCA, SIAC, DIAC, JAMS, AFA and many other arbitration rules. Recognised by Décideurs for many years, named a "Rising Star of International Arbitration" by the Leader's League and the "Best of the Best" in various legal awards, as well as "Who's Who" in the field of international arbitration, clients call him a "great international arbitration lawyer" who is "incredibly smart", "reliable, dynamic, loyal and committed to his clients", "fair and transparent" and "a lawyer who will seek one hundred percent to guard the interests of his client". They also call him "hard-working and highly responsive" with "depth of knowledge and experience in international dispute resolution" and "an unstoppable work ethic". They also cite his "excellent understanding of international arbitration case law and strategy" while noting that he is "very easy and pleasant to work with" and he "never abandons a case halfway, no matter how hard a case can be". +More
---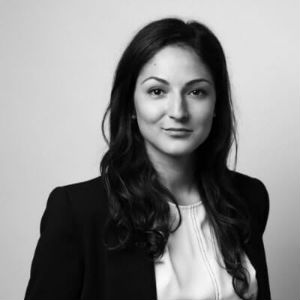 Nina A Janković holds an LLM in Public International Law from Leiden University, the Netherlands, and an LLB from Belgrade University, Serbia, graduating summa cum laude. She has more than five years of experience in international construction, investment and commercial arbitration. Prior to joining Aceris, Nina was a Graduate Trainee in the International Arbitration Group of Freshfields Bruckhaus Deringer in Paris and a former intern at the Permanent Court of Arbitration (PCA) in The Hague.
Nina has served as counsel in numerous arbitrations under the UNCITRAL, SIAC, SCC, ICC, LCIA, PCA, AAA, ICDR and other arbitration rules, involving English, Bosnian, Saudi, Uzbek, Angolan, Singapore and other laws. Recent cases, concluded successfully in favour of Aceris Law's clients, include, inter alia, an LCIA arbitration under Saudi law regarding the construction of a desalination plant in the Middle East; an UNCITRAL ad hoc arbitration involving the construction of a water distribution network in Angola; and a SIAC arbitration under Singapore law regarding the construction of a desalination plant in Oman. She has also represented a publicly-listed Malaysian company in a USD 400 million dispute involving a natural gas construction project in Uzbekistan against a subsidiary of a Russian multinational company in the oil and gas sector, as well as a Greek construction company in an UNCITRAL arbitration administered by the PCA against a Bosnian state agency involving the construction of a wastewater treatment plant governed by Bosnian law. Clients praise her as a "very well organized", a "methodical researcher" with "a very sharp intellect", "cutting through unnecessary information with excellent drafting ability to present the case succinctly". They also find her very "friendly and professional", "easily approachable and very responsive".
Nina speaks English, Serbian/Croatian, Spanish, German and French fluently, and she has basic knowledge of Portuguese. She is qualified to practice law in Serbia.+More
---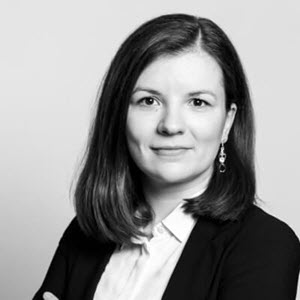 Zuzana is a Slovak national and Sorbonne/Assas-educated lawyer registered at the Paris Bar with more than a half decade of experience in international arbitration, with a strong focus on investment arbitration and public international law.
Zuzana has also served as counsel in multiple high-profile commercial and construction arbitrations under the ICC, UNCITRAL, SCC, LCIA, PCA and other arbitration rules. She has represented companies and States in disputes across a broad range of industries (real estate, construction, energy, civil aviation, cryptocurrency, etc.) under French, Swiss, English, Georgian, Kazakh, Saudi, OHADA and other laws. She has also advised clients on international economic sanctions imposed by the USA, the EU and the UN, as well as on third-party funding options. Zuzana has represented an Eastern European State-owned company in Dispute Adjudication Board proceedings against an Indian construction company concerning a USD 15 million dispute over the construction of an OHL transmission line. She has also served as counsel for a publicly-listed company in an SCC arbitration under English law against a Dubai-based company in a dispute regarding a logistics contract concluded for a gas construction project involving, inter alia, issues of application of the U.S. economic sanctions through the prism of force majeure. Zuzana has also acted as counsel for a Singapore-based company in a successful ICC arbitration over a civil aviation dispute; for an Austrian company in a successful ICC arbitration against a Mauritanian company in a construction dispute; for a Kazakh company in an ICC arbitration against a Joint Venture composed of Italian and Kazakh companies concerning a road construction project; and for a Saudi company in an ICC arbitration against another Saudi company over a construction dispute in relation to a refinery project. Zuzana also represented a foreign investor in a successful multi-million dollar UNCITRAL ad hoc investment arbitration against a West African State in a judicial expropriation-related dispute.
Zuzana speaks English, French, Slovak and Czech fluently and has basic knowledge of Russian. +More
---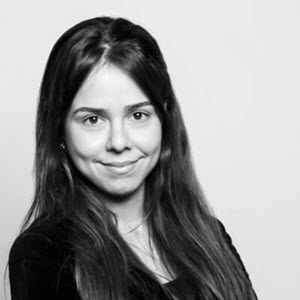 Isabela Monnerat Mendes is a Brazilian national authorized to practice law in Brazil and admitted to the Paris Bar.
Isabela has served as counsel in numerous arbitrations in different business sectors. She has represented a European IT group in an LCIA arbitration against an African company under English law, as well as a Saudi client in a dispute concerning the construction of a power plant in Riyadh under Saudi law. She has also served as counsel in a dispute over a stock purchase agreement under New York law and in multimillion-dollar arbitral proceedings under the SCC Arbitration Rules. Isabela has been involved in numerous ICC and ad hoc arbitrations under Swiss law, English law, and Saudi law in the fields of construction, energy, IT and distribution. Additionally, Isabela has robust experience in investment arbitration and commercial arbitrations involving State entities. She has served as counsel in an ICSID arbitration representing a French investor, and she has assisted with expert reports in the fields of investment arbitration and public international law. Prior to joining Aceris, Isabela worked as an Associate in a boutique law firm specialized in Latin American arbitration, where she was involved in the firm's investment arbitration cases.
Isabela obtained an LL.M. in Comparative and International Dispute Resolution in London at the Queen Mary University of London. She also obtained a Master 2 in Arbitration and International Commerce at the University of Versailles Saint-Quentin-en-Yvelines, as well as a law degree at the Pontifícia Universidade Católica de São Paulo with Honors. Isabela has published a number of articles on investor-State arbitration, in English and Portuguese, and speaks fluent English, French, Portuguese and Spanish. +More
---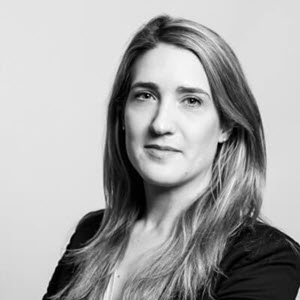 Anne-Sophie Partaix, a French national with significant international experience, is admitted to the Paris bar. She speaks French, English and Spanish.
Anne-Sophie has served as counsel for Claimant, an American company, in an ICDR arbitration under New York law against a South-Korean company involving blockchain technologies. She has also served as counsel, on behalf of Respondents, of a SIAC arbitration governed by Japanese law involving nine parties, which concerned a joint venture agreement. Anne-Sophie has also served as counsel in an international dispute between American and Chinese companies in the solar industry that was resolved successfully in favour of Aceris Law's client.
Anne-Sophie has been described by Aceris Law's clients as "highly responsive and quick to adjust to the subtle differences between Europe and the United States". Prior to joining Aceris Law, she was an intern at Herbert Smith Freehills in Paris, an intern at Orano (ex-Areva), an intern at the Rasseck Bourgi Law Firm, where she assisted in obtaining over USD 200 million in compensation for a foreign investor. Anne-Sophie obtained a Master 2 in International Economic Law at the University of Paris II (Panthéon-Assas), after obtaining an LL.M. in Public International Law at Queen Mary University in London and a Master 1 in International Law and European Law at the Faculté libre de Droit in Lille. +More
---
Anastasia Tzevelekou is an arbitration lawyer based in London, experienced in both civil law and common law systems.
Anastasia has served as counsel in LCIA arbitrations under English law, notably in the steel and energy sectors. She has also served as counsel in construction disputes, including dispute board proceedings in the electricity industry. In addition, Anastasia has served as counsel in an SCC arbitration regarding a logistics contract, multiple ICC arbitrations under American law, Saudi law, Swiss law and other laws, on behalf of multinational corporations in the cryptocurrency, distribution, automotive and other sectors. She has also advised a European third-party funder on the potential acquisition of a large arbitral award against an African State and enforcement issues involving sovereigns. She has also represented a Saudi company in an LCIA arbitration under English law involving lost profits in the commodities sector. She has also served as counsel in two ICC disputes under Swiss and African laws in the technology and pharmaceutical industries and assisted an arbitrator in a DIFC-LCIA arbitration concerning an EPC contract.
Anastasia holds an LL.M. in International Business Law from the London School of Economics, as well as an LL.M. in International Commercial Arbitration and a Bachelor's Degree in Law, both from the Democritus University of Thrace in Greece, graduating in the top 1% of her class. Prior to joining Aceris, Anastasia worked at KPV Legal, a boutique firm in Athens, assisting with international arbitration cases and advising corporations in the aviation, pharmaceutical, distribution, energy and other sectors.
Anastasia speaks English, French and Greek. +More
---
Special Counsel
Abdullah Medallah
Abdullah Medallah is a lawyer admitted to practice law in Saudi Arabia who began his career as a Construction Engineer with the Royal Commission/Bechtel.
He studied law in Glasgow and London and worked as in-house counsel for companies in venture capital, private equity, construction and oil and gas.
Abdullah is a Doctoral Researcher in London and speaks English and Arabic. He assists Aceris Law with arbitrations involving the Middle East, including litigations before Saudi Courts.
---
Marie-Camille Pitton
Marie-Camille Pitton is a Harvard, Oxford and Sorbonne educated arbitration lawyer, who is registered as an attorney in New York and the Versailles Bar. Marie-Camille Pitton has over a decade of experience in international arbitration and arbitration-related litigation, serving clients from diverse jurisdictions.
Prior to March 2017, Marie-Camille Pitton was Counsel at the ICC Court of arbitration, where she supervised hundreds of arbitration proceedings, with a specific focus on cases related to France, Africa and the Middle East. In this capacity, she has been confronted with every possible procedural difficulty and advising arbitration professionals (arbitrators, counsels and in-house counsels) from a myriad of jurisdictions.
Between 2008 and 2012, Marie-Camille Pitton was a lawyer in the international arbitration and litigation group of a leading American international corporate law firm. She previously worked at University Paris I as a teaching assistant, while completing her PhD in the field of private international law and sales law, which was published by Eleven publications in 2013.
---
Katarina Simalova
Katarina Simalova, based in London, is an English Solicitor and U.S. attorney with a background in civil law, the common law and international arbitration.
She worked at Jenner & Block in London, as well as Clyde & Co LLP, for a half-decade after obtaining a Master of Laws in Comparative and International Dispute Resolution at the Queen Mary University of London.
She also has degrees in law from the Florida Coastal School of Law, where she graduated summa cum laude, as well as the BPP Law School. Katarina speaks English, Czech, Polish, Russian, Slovak and Spanish and is a frequent speaker at arbitration conferences and the author of a number of publications concerning international arbitration.
---
Aceris Law has one or two trainees at all times, serving for six-month internships. Interns from outside of the EU may apply and may remain in their State of origin if they wish via a remote internship (Aceris Law supplies the technology). We choose our trainees and consultants on the basis of their academic excellence, their language skills and their demonstrated interest in international arbitration. Interested applicants should send a c.v. and cover letter to Mouna Baakil.
Vladislav Rodionov is a Russian national with significant experience in arbitrations at the International Commercial Arbitration Court in the Chamber of Trade and Commerce of Russia in Moscow, as well as ICC and SCC arbitrations. He is a candidate at MIDS (Geneva LL.M. in International Dispute Settlement) and graduated magna cum laude from  the Moscow State University of International Relations. He speaks Russian, English and Arabic.
---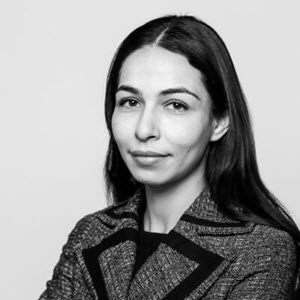 Mouna Baakil is Aceris Law's Office Manager. Mouna studied law before obtaining a Master II in International Commerce-Management and working for the Carlsberg Group and PWC. She is Moroccan of origin and speaks fluent French, English and Arabic.