Aceris Law has been cited as a key player among Swiss international arbitration law firms in the International Report and Directory Series of 2015-2016.
Among Swiss international arbitration law firms, Aceris is unique, offering excellent international arbitration legal representation at far more competitive rates than were traditionally available. According to Aceris founder William Kirtley, "We can do this because we are lean, efficient, very good with new technology and know what we are doing. We don't waste money on frills that are unrelated to winning a case, and we have no minimum billables to impose on our clients. The one thing that bothered me when working at large international firms was the constant sensation that we were giving our clients a terrible deal. With Aceris, we can authentically feel good about the value of the legal services that we are providing to our clients."
Aceris is a Swiss international arbitration law firm that focuses solely on resolving disputes via international arbitration. Its headquarters in Geneva, Switzerland, but unlike other Swiss international arbitration law firms it has an office in Paris and access to offices in 110 countries to meet and work with clients, and its lawyers travel frequently.
"In terms of Swiss international arbitration law firms I think that we have a greater variety of clients than most. Recent clients have been based in China, Japan, the Philippines, Saudi Arabia, Ukraine, Turkey, France, Switzerland, Mexico, Canada and the United States, and their disputes have ranged in size from USD 500,000 to over USD 300 million. Since our lawyers speak a variety of languages and have lived and worked internationally for most of their lives, I think that they are far more comfortable dealing with clients of other cultures than many Swiss international arbitration law firms," indicated Kirtley.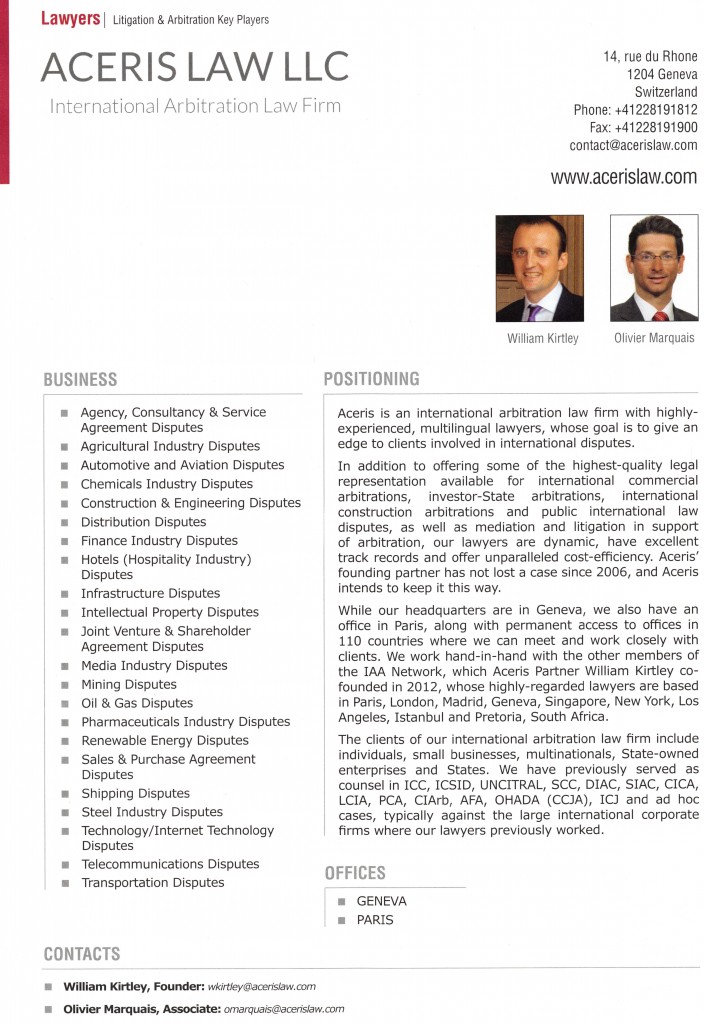 Unlike other Swiss international arbitration law firms, Aceris relies heavily on videoconferencing to stay in touch with clients on all continents. "The big problem is that we never sleep," says William Kirtley, "since our clients are located in quite a few different time zones. I would not say that our practice is truly focused on arbitrations with their seat in Switzerland, since the majority have their seat elsewhere and we frequently travel."