One heated debate concerning third-party funding in international arbitration is the disclosure of third-party funding, as third-party funders may be acting behind the scenes to finance an arbitration.
Whether disclosure extends only to the funder's identity or also to the integrality of the funding agreement, the question of disclosure is relevant to achieve a balance between transparency, on the one hand, and efficiency, on the other.
Absence of a general and mandatory rule requiring parties to disclose third-party funding agreements
Today, there is no general rule requiring parties to disclose a third-party funding agreement. Current arbitration rules, as well as national law, are silent on this issue, although proposed changes to the ICSID Rules would create a new duty to disclose third-party funding.
Apart from listed companies, subject to public law and stock exchange rules, parties may either disclose third party funding agreements voluntarily or to comply with orders from the arbitral tribunal.
In 2014, the International Bar Association (IBA) issued the IBA Guidelines on Conflicts of Interest in International Arbitration. The Guidelines address the question of disclosure of third-party funding agreements in the context of arbitrators' impartiality and independence. It underlines the need for a disclosure, placing litigation funders and insurers on the same level as parties with a "direct economic interest in the award."
"Third-party funders and insurers in relation to the dispute may have a direct economic interest in the award, and as such may be considered to be the equivalent of the party. For these purposes, the terms 'third-party funder' and 'insurer' refer to any person or entity that is contributing funds, or other material support, to the prosecution or defence of the case and that has a direct economic interest in, or a duty to indemnify a party for, the award to be rendered in the arbitration".[1] This is reflected in General Standard 7(a):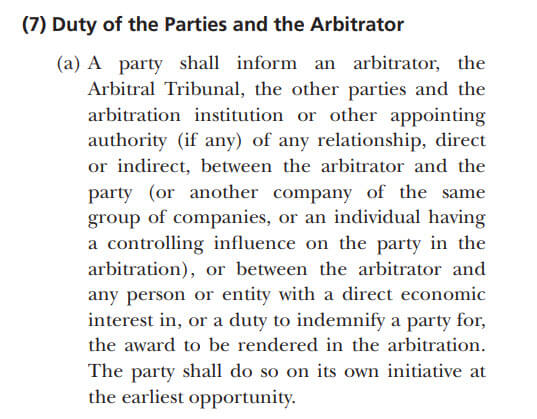 Despite the acceptance of the IBA Guidelines within the arbitration community, they are mere recommendations to parties and arbitral tribunals, which "do not override any applicable national law or arbitral rules chosen by the parties".[2]
Disclosure of funding as a strategy in arbitration?
If parties can voluntarily reveal the existence of funding agreements, a claimant may in fact do so for strategic purposes. Revealing a funding agreement can improve a claimant's position in potential settlement, as a claimant will be able to prove that it has the financial capacity, which may be in doubt, to pursue the arbitration until its bitter end.
It can also send a message to the arbitral tribunal that it has a strong case (as funders' due diligence is very rigorous and most litigation funders only accept a case after a thorough analysis of its strengths and a thorough review of supporting documentation). An upfront disclosure may also signal that a claimant is willing to ensure the integrity of the arbitral proceedings.
On the other hand, parties must carefully analyze the disclosure of any funding agreement. It may increase the likelihood of fishing expeditions from the opposing party (i.e., an order to disclose the funding agreement's terms and other challenges), while increasing the likelihood of a request for security for costs being made.
Procedural issues involving disclosure: conflict of interests and security for costs
Funding agreements may affect important procedural issues such as conflict of interests and requests for security for costs.
Third-party funding may give rise to conflicts of interests in several ways with respect to the arbitrator's independence, for instance if the arbitrator has a relationship with the third-party funder. However, conflicts of interests are not necessarily limited to arbitrators. Many third-party funders are well-known and large institutions, which are inevitably involved in other claims.
Accordingly, the risk of non-disclosure in the context of conflict of interests is relatively high. A refusal would increase the chances of a challenge based on the arbitrator's lack of impartiality and independence, including at the time of the enforcement of an arbitral award before national courts.
Disclosure can also be necessary to comply with arbitrators' orders for security for costs. When such a request is filed, a claimant can be compelled to prove its financial situation. The existence of a funding agreement can give ammunition to the respondent seeking security for costs, as it may be seen as indicative of a claimant's inability to bear arbitration costs in the event of an adverse costs award, although this is not always true.
[1] IBA Guidelines on Conflicts of Interest in International Arbitration, as amended on 23 Oct. 2014, Explanation to General Standard 6.
[2] IBA Guidelines on Conflicts of Interest in International Arbitration, as amended on 23 Oct. 2014, Introduction, para. 6.