Blockchain technologies have been in news headlines over recent years. While digital currencies such as Bitcoin remain in the spotlight, 'blockchaining' may change the way in which some modern companies do business. Its effects are already streamlining cross-border trade to be more transparent and efficient.
Arbitration may be the ideal dispute resolution system for blockchain-related issues, and it would not be unsurprising to see blockchain arbitration in the near future.
What are Blockchains?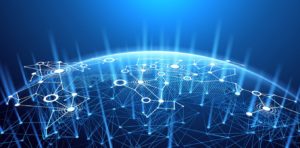 A blockchain is a database which can record any information (e.g., the transfer of bitcoins). Blockchains store data in "blocks" and "chain" them to form a consistent record of information.
Two features make blockchaining novel. First, thousands of computers around the world can store and provide access to identical copies of one blockchain. If a change to one ledger is made, the entire network is updated. Second, using a non-central database system, technology that stores information on the blockchain makes it extremely difficult to attack or corrupt.
Smart Contracts and Decentralized Autonomous Organizations
Blockchaining has incorporated two additional concepts: smart contracts and decentralized autonomous organizations ("DAO's").
Smart contracts are coded instructions which perform an act once an event occurs. For example, they can transfer insurance funds when a verified insured event takes place (e.g., a plane is delayed).
DAO's operate by pre-coded rules. They use smart contracts and maintain business records in a blockchain. In theory, once a programmer creates and programs a DAO, human input and error should be reduced to zero.
Industries that use or could benefit from blockchaining include: identity verification, money transferals, property records, verifying goods and automation of contract performance.
Disputes Related to Smart Contracts
Much attention has been given to blockchain technologies and their 'fit' within current regulations and laws. Some legal issues include the following:
Jurisdiction and applicable laws where servers are non-central and spread around the world (i.e., making it difficult to determine where a breach or failure took place).
DAO's as a legal status – are they simple, self-governing corporations or something else?
Chain of liability in the event of a DAO failure – how far should it extend?
Whether smart contracts are legally enforceable, and where.
Although blockchains may reduce human error, it would be naive to ignore the reality that coding may suffer from human error or hosting platforms may fail. As with any endeavour, disputes will arise.
One solution would be to incorporate a general contractual agreement in the prevailing terms for a relevant DAO. On the other hand, two contracts may also be sufficient: one which incorporates elements of a codified program and another which is more traditional, such as a Master Supply Agreement. This way, the agreement connects to performance, i.e., the DAO.
Viewing it in this way, the blockchain structure remains separate from the main contract. In other words, DAO's and smart contracts operate to execute the contract. To compare, the DAO operates like a road network to move goods. That network is not part of the contract itself, but it is a necessity. Also, the smart contract would behave like a Letter of Credit. Thus, its automatic performance depends on the relevant act.
Arbitration to Resolve Blockchain Disputes?
Arbitration is likely the most attractive way to resolve blockchain-related disputes.
Arbitration's flexibility provides a neutral venue to enable parties to efficiently resolve disputes, wherever they are located. The parties are free (in most cases) to name tribunal members who are experts in the blockchain field and computing. Also, the New York Convention allows for ease in enforcing international awards throughout the world, which is a sizeable advantage, given the cross-border nature of blockchaining.
The parties can also shape the process of the dispute, which can enable efficient approaches to resolution and harness the benefit of blockchain technology. Put otherwise, arbitration is more than flexible enough to keep pace with a new breed of disputes.
In fact, several companies are developing ways in which parties can include arbitration provisions as part of their smart contracts.[1] Moreover, there have been mock blockchain arbitrations, under the "Blockchain Arbitration Rules".[2]
Conclusion
Blockchain technology is still making its way into mainstream industries, and its ultimate impact remains to be seen. Its potential could have lasting effects, however, including in the field of arbitration.
[1] E.g.,  https://hackernoon.com/adding-a-blockchain-arbitration-layer-to-our-day-to-day-life-621a2a855b1c.
[2] E.g., https://www.trustnodes.com/2017/07/17/worlds-first-smart-contract-based-arbitration-proceedings-conducted.