Aceris has been ranked among the best international arbitration law firms in the latest rankings of Décideurs, the Legal 500/Chambers of France.
The best international arbitration law firms were led by Shearman & Sterling, where Aceris' founder began his legal career, but also included a number of newer international arbitration boutique practices such as Aceris.
Aceris was ranked as a "recommended" international arbitration law firm and was singled out as unique in terms of its cost-efficient legal services.
According to Aceris' founder William Kirtley, "It is an honor to have the hard work of our international arbitration firm singled out by such a prestigious publication. We look forward to continuing to provide very high-quality, but cost-effective, international arbitration legal representation for our clients over the years to come."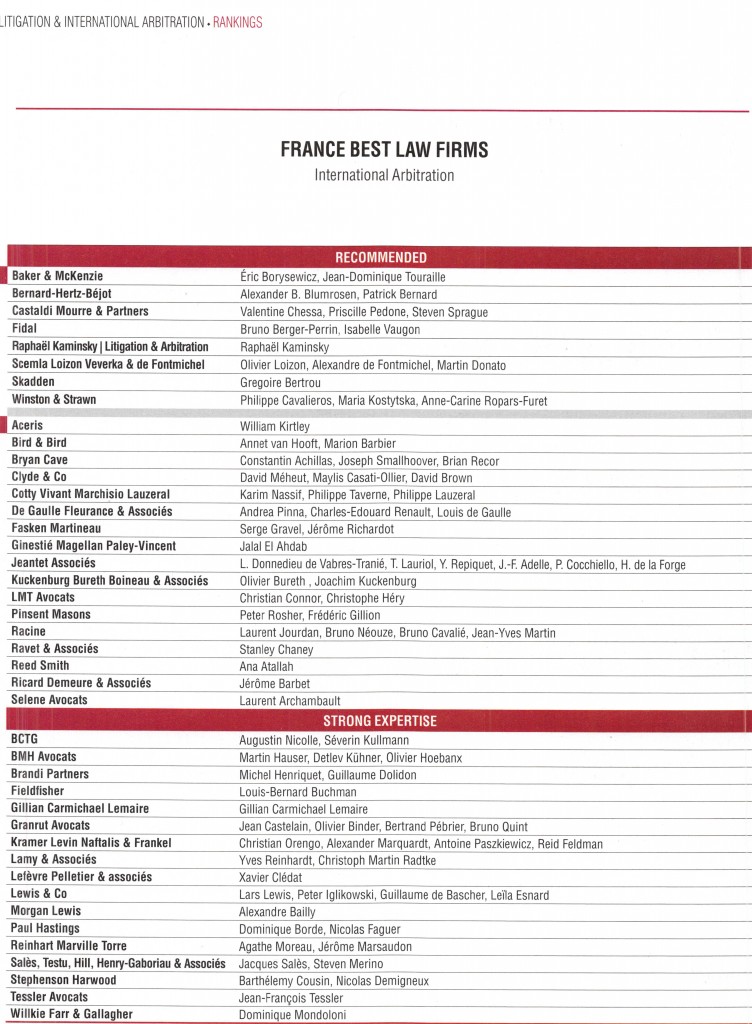 Among the best international arbitration law firms figured Shearman & Sterling, White & Case, Bredin Prat, Dechert and Freshfields in the top tier. The second-best international arbitration law firms included Betto Seraglini, Cleary Gottlieb, Derains & Gharavi, Gide, King & Spalding, Linklaters, Orrick Rambaud Martel, Quinn Emmanuel, Clifford Chance, Curtis Mallet-Prevost Colt & Mosle, Darrois Villey, Teynier Pic and Three Crowns.
"We are highly-ranked for a new boutique practice and among the best international arbitration law firms, and we certainly offer the most interesting value proposition on the market for high-quality international arbitration legal representation," said William Kirtley. "We typically represent our clients against the largest international firms, and we look forward to growing Aceris over the years to come."
Aceris currently serves as legal counsel in ICC arbitrations, ICSID arbitrations, UNCITRAL arbitrations, a JAMS arbitration, an ad hoc arbitration, and its lawyers recently served in DIAC and SIAC arbitrations but have experience under many other arbitration rules.
Its working languages are French and English, but its lawyers also speak Russian, Spanish, Arabic, Romanian and other languages, and its client come from all continents.
Unlike other leading international arbitration firms, Aceris maintains access to offices to meet and work with clients in 110 countries, and it makes very heavy use of videoconferencing and other technologies.