One of the most acclaimed aspects of international arbitration is its neutrality, but charges of bias in international arbitration are frequent. Arbitrators constituting an international tribunal must be independent and free from any bias. In case of doubt, any party can challenge the independence of an arbitrator after being appointed.
Bias can be real, which is rare in international arbitration, or apparent, as in most cases.
As required by Article 18 of the UNCITRAL Model Law and many similar statutes, parties must be treated equally. Article 12 allows parties to challenge one or more arbitrators based on his/her or their apparent lack of independence. The challenge will be welcomed, according to the IBA Guidelines on Conflicts of Interest in International Arbitration, if there are justifiable doubts as to the bias of the arbitrator.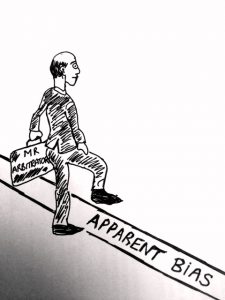 Independence is said to be achieved when the arbitrator concerned lacks both party and outcome preference.
Party preference occurs when the decisionmaker is leaning in favor of one party over another, whatever the reason behind it.
Party preference or favoritism may be related to the identity of the party, such as its nationality, race or political orientation, or a close relationship to the party, whether professional, commercial, social or representative.
Outcome preference or substantive bias occurs when favoritism is granted based on a legal opinion.
In practical terms, this means that an arbitrator will have a pre-judged idea of which party should win before analyzing the facts of the case at hand.
It may be because of a previous case with similar facts or a previous expression of opinion. It may also be the case when the arbitrator was previously involved as a counsel in the case.
For instance, in Himpurna California Energy Ltd (Bermuda) v. The Republic of Indonesia, the chairman was challenged for lack of independence as he appeared to have a pre-determined judgment on jurisdiction due to his well-known enthusiasm for international arbitration.
Furthermore, in İçkale İnşaat Limited Şirketi v. Turkmenistan, ICSID Case No. ARB/10/24, Philippe Sands was requested to be disqualified, since he had already expressed an opinion on the interpretation to be given to a provision in the applicable bilateral investment treaty.
While challenges for bias rarely succeed in international arbitration, this is especially true with respect to challenges for outcome preference.