Human rights and investment arbitration are not opposed, and in fact there is a considerable degree of overlap.
The European Court of Human Rights ('ECtHR') has been used as an alternative forum or supplement to Investment arbitration in multiple disputes. Even though the ECtHR and Investor-State Arbitral tribunals belong to prima facie different regimes, and despite Article 35, §2, b) of the European Convention on Human Rights ('ECHR'), which indicates that the ECtHR "shall not deal with any application that is substantially the same as a matter that […] has already been submitted to another procedure of international investigation or settlement," their subject matter often overlaps, creating concurrent jurisdiction of both over a case concerning an investment dispute between an investor and a host State of investment.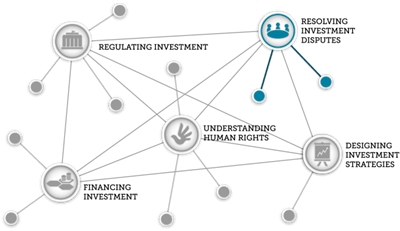 The European Convention on Human Rights ('ECHR') deals with the treatment of everyone under a Member State's jurisdiction, whereas the International Law of Foreign Investment contains guarantees for the treatment of specific persons (aliens) and their property.
It is, however, not hard to find similarities between different standards of protection, especially so where property rights are concerned. For example, Article 1 of the First Additional Protocol to the ECHR contains guarantees for the peaceful enjoyment of property, which overlaps with the Investment Law standards of lawful and unlawful expropriations, as well as fair and equitable treatment. Thus, where the ECHR is applicable, and the facts of the case allow for it, an investor may also potentially frame his or her case as an issue concerning protection of property under the ECHR. This, for example, was done in the context of the Yukos Affair, a set of cases which, aside from Investment arbitration, were also argued before the ECtHR.
Recourse to the ECtHR may supplement investment arbitration, by allowing the examination of claims not befitting investment arbitration. Such would, for example, include claims of mistreatment of the owner, executives or personnel of a company, who cannot seek satisfaction in their own name in Arbitration for jurisdictional reasons (nationality, investment etc.) or because Investment Law primarily deals with treatment of a specific thing (investment) and not with treatment of persons (even though treatment of a person might be indicative of a breach vis-à-vis the investment, and moral harm has been found in a small number of investment treaty arbitration cases). This is a useful litigation tactic for an investor, since it can pressure a government on two separate fronts. It is also without prejudice to the compensation that will be awarded for Claimants' satisfaction in the respective fora, since case law from both ends suggests that recourse to one forum does not exclude recourse and satisfaction from the other, although it is likely that issues of res judicata or lis pendens will nevertheless be debated.
Inevitably, however, this possibility raises concerns about the system as a whole. International law lacks a mechanism that can effectively regulate parallel proceedings in such a manner to avoid all risk of double recovery or to ensure that conflicting outcomes don't arise, and it is safe to assume that the fact that few major problems have arisen to date is a mere coincidence. Therefore, as it stands today, there is significant room for abuse of rights from the side of well-funded investors.
The ECHR covers a far broader subject matter and is less specialised or willing to award large amount in compensation in investment cases. This means that aside from supplementary personal claims or extreme cases such as Yukos, investors are more likely to continue seeking relief solely through the more optimized proceedings of investment arbitration.
It will be interesting, however, to see what occurs when the decisions of the European Court of Human Rights and investment arbitration tribunals squarely conflict.
---