When interpreting a treaty provision, arbitral tribunals should first and foremost look at the "ordinary meaning of the terms". This methodology is prescribed by Article 31 of the 1969 Vienna Convention on the law of treaties (VCLT).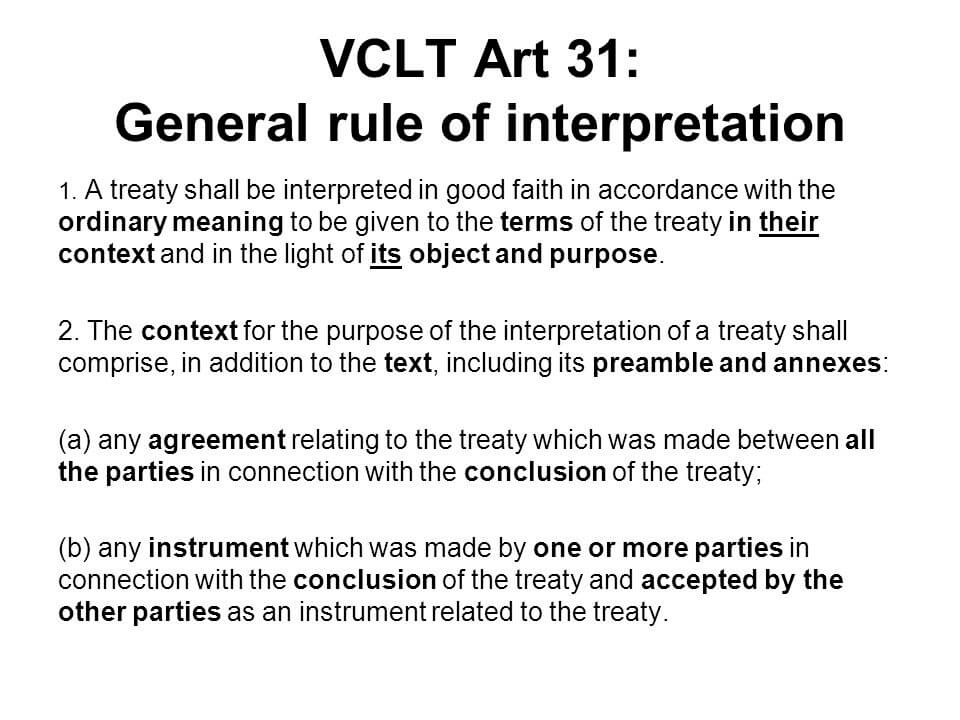 VCLT Articles 31-32 are codifications of customary international law. The interpretative approach prescribed by these articles should be unequivocally adopted by tribunals when interpreting agreements between States and international organisations.
While some investment treaties (NAFTA, ECT) are mixed agreements, the applicable convention to mixed agreements: the 1986 VCLT, has not yet entered into force.  The 1969 Convention therefore applies by analogy to these agreements as well.[1]  The ICJ has also recognised the customary international law status of Articles 31-32. It is therefore through the rules contained in these Articles that any investment treaty provision should be interpreted[2].
Professor Scheuer has stated that "Tribunals almost invariably start by invoking Article 31 of the Vienna Convention on the Law of Treaties (VCLT) when interpreting treaties"[3]. His statement implies that subject to a few exceptions, tribunals recognise the binding nature of Article 31 and place emphasis on the ordinary meaning of a text.
An empirical analysis of ICSID decisions undertaken by Ole Fauchald, however, suggests otherwise. His findings showed that between 1999 and 2002 there were references to Articles 31-33 in only 21% of decisions. While this percentage increased to 47% in the years 2003-2006, it still falls well below an almost invariable invocation of Article 21.[4] It is therefore evident that tribunals have not unequivocally adopted this interpretative approach.
Article 31 is the starting point when interpreting a treaty. Article 32 contains supplementary rules of interpretation. It permits recourse to the preparatory work of the treaty. Recourse to Article 32 can, however, only be made when "the interpretation according to article 31: a) leaves the meaning ambiguous or obscure, b) leads to a result which is manifestly absurd or unreasonable"[5].
Preparatory works are nevertheless inevitably considered by courts/tribunals when interpreting the "terms of the treaty in their context and in the light of its object and purpose"[6]. This is because parties to a dispute often make reference to preparatory works during proceedings. Once preparatory works are brought to the attention of a tribunal, it is difficult for the tribunal not to consider them when assessing the meaning of the treaty in light of its object and purpose.
In practise, preparatory works may therefore influence a tribunal away from adhering to a strict textual interpretation as prescribed by Article 31. As a result, the intention of the parties is rarely ignored in the interpretation of a treaty by a tribunal.[7]
[1] Danae Azaria, Treaties On Transit of Energy Via Pipelines and Countermeasures (1st edn, Oxford University Press 2017): 13.
[2] Costa Rica v. Nicaragua, ICJ 13 July 2009 para 47.
[3] Christoph Schreuer, 'Diversity And Harmonization Of Treaty Interpretation In Investment Arbitration', Treaty Interpretation and the Vienna Convention on the Law of Treaties (BRILL 2010) 129.
[4] O. K. Fauchald, 'The Legal Reasoning Of ICSID Tribunals – An Empirical Analysis' (2008) 19 European Journal of International Law: 314.
[5] VCLT: Article 32
[6] VLCT: Article 31(1)
[7] J.G Merrills, 'Two Approaches to Treaty Interpretation' [1971] Australian Journal of International Law: 61.